Poor-man's Kaossilator
kaossilator - puredata patch
Download here: kaossilator.pd
Video here: Youtube video


The Korg Kaossilator is a touch-pad synthesiser. It allows you to drag your finger across a touch pad similar to a mouse track pad on a laptop, and alter the pitch and timbre of a synthesised sound depending on your finger position on the pad.

Here's a picture of the original device (source: Korg, 2008)

---
I've created a software version of the kaossillator using a combination of Windows software. The first is from LiveLab who made an excellent piece of software called Touchpad2MIDI (mirror: touchpad2midi.zip).
Touchpad2MIDI needs a Synaptics touchpad!
We feed the output from Touchpad2MIDI to a PureData patch and then to a software (or hardware) synthesiser. Now you have a Kaossilator, but with sounds you can design yourself. (The real Korg Kaossilator has only a few preset sounds inside).
You could also use any other X-Y controller (and avoid using Touchpad2MIDI), feeding the data directly into the PureData patch.
Downloads:

Also see:
MidiYOKE (see MidiYOKE download page) is a crucial component here, it facilitates routing of MIDI internally so that the separate pieces of software can communicate with each other
Video:

Also see: the instruction video on youtube
Screenshots:

Make sure to configure the Touchpad2MIDI plugin by picking the correct options (highlighted in red) so that they correspond with the image below: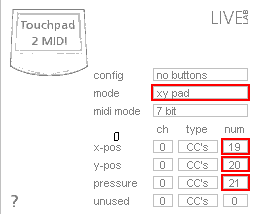 Main patch: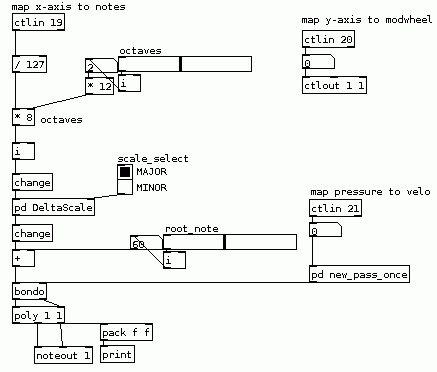 Constraining notes to scales: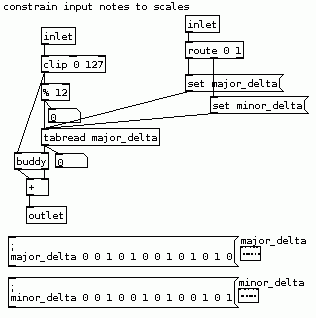 Velocity mapping: